Is your website delivering SUCCESS to your business?
Download our guide to understand how to evaluate the success of your website, plus tips that will help you make improvements today!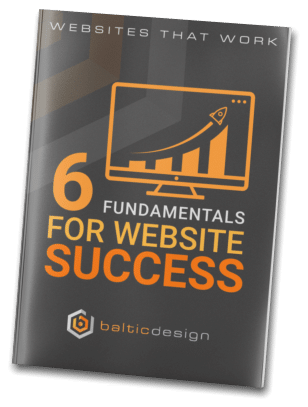 Your website is a key sales platform for your business
Your website is one of the first thing that your potential customers will see when they're searching for a company like yours online.
Are you missing out on potential new leads because your website has problems that you're not aware of?
If you don't look after your website, it can be harder for your potential customers to find you. When you're not visible to your customers, you run the risk of them going to your competitors.
Our short guide contains six key areas that you should focus your attention on, to ensure that your website delivers success to your business.
Emily Humphrys
4 months ago
We have been working with Dan from Baltic Design for over a year now. He is extremely knowledgeable and quick to respond to requests. He rebuilt our wordpress (back-end) website and amalgamated 2 catalogue sites (magento) to woo-commerce to integrate with our wordpress (main) site. Now its a case of monthly maintenance to keep our website up and running, user friendly and allowing us to be self-sufficient with adding new content and product pages. Thanks alot Dan!
Enquiries LMB Residential
3 weeks ago
Dan made and published a website for me in a timely manner and also was happy to help with the few changes I requested. I would be happy to use him again and would recommend his services to others.
Gavin Dowd
11 months ago
Dan has done a fantasic job on the redesign of my wordout.co.uk website. Dealing with Dan is straight forward and he is open to design ideas. The whole process from initial consultation to site launch and sign off was stress free. I highly recommend Baltic Design.
Side By Side Arts
a year ago
We asked Baltic Design to give our website an overhaul. Working with our designer Dan was able to fully create a really well put together, user friendly and functional site. Any queries were dealt with really quickly and we are so pleased with the finished outcome - thank you so much for our really professional looking site!
Clare Albans
2 years ago
I have worked with Baltic Design for many years now, and have always been extremely happy with my hosting. Dan is super helpful and knowledgeable, and the hosting is very solid with a great software stack. Dan also moved my hosting to a better host when I needed it for my growing e-com business, and I would highly recommend his services.