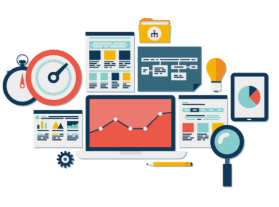 target customers not traffic
Getting traffic to your site is great, but if visitors don't buy from you at some stage they are not your target audience.
Search Engine Optimisation is about increasing conversion rates from your website.
Search engines 'read' the content of your site; they love structure and order and value fresh and original content – just like your customers will.
To get sales, you need to appear at the top, or as near the top of search engine results pages as you can – for the right keywords.
We help businesses in Newcastle and around the UK optimise their websites for Search, by building on page SEO with a chosen target keyword in mind, looking at page structure, image titles and keyword density.
Local SEO is great if your business has a location to visit, or you feel customers will include a location when searching for your product or service. It's really quick to start ranking and getting enquiries. We'll connect you to Google places and add a google map to your site.
We employ SEO specialists to provide web citations, link building and provide an SEO strategy over a longer timeframe to continue growing your business online.