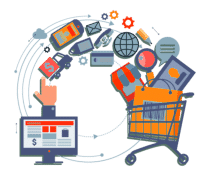 a cost effective way to sell online
If your product can be mailed, downloaded or even picked up from your store, selling online is a great way to increase sales and expand your market reach to new customers.
Ecommerce has never been easier, payments can be taken through services such as PayPal and Google checkout while services such as Sagepay and Skrill will help you accept credit and debit cards securely online.
We design, build and test your shop thoroughly to ensure when customers arrive they can browse and buy from your shop in a simple and concise manner.

Woocommerce is a great way to add an online shop to your WordPress site. It's our favourite.

Magento is one of the most powerful ecommerce solutions available and the enterprise version is free.
We can install a secure SSL Certificate for your website, to reassure and protect your customers.